White Bear Lake High School
Class Of 1964
In Memory
Ken Dennis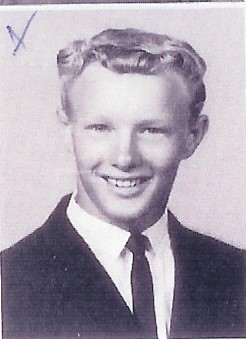 I wasn't able to find an obituary for Ken, but I did locate a wonderful newspaper article about him. RIP
NEWPORT NEWS TIMES
March 15, 1946 - July 19, 2018
"Are you kidding me?"
Exactly how everyone should react to the sudden passing of Kenneth "Ken" Dennis on July 14th, 2018.
Mr. Dennis (who nobody called him or they'd instantly get on his bad side) was extremely fond of the following things: family, do-it-yourself projects, good beer, cycling, camping, 35mm cameras, and "boogie", but not particularly in that exact order.
"Kenny" (as he was actually called by close family) was born in Algona, Iowa March 15, 1946. He spent his formidable years (that involve having more fun than was probably legally allowed) in Minnesota where he graduated high school from White Bear Lake in 1964.
The United States Air Force was privileged to have his service from 1966 to 1971 where he spent a period of time repairing radio equipment on jet fighters in Vietnam. In 1972, he began his career in the communications industry after graduating from Brown Institute in St. Paul, MN.
Ken's career blossomed in the telecomm industry, which led him from Minnesota to the Pacific Wonderland of Oregon in 1979 where he eventually settled in Newport for 30+ years. On the Oregon Coast, Ken's free time was spent on the back of a super skinny, very quick bicycle which enabled him to fully embrace the wonderful world of the open road and spandex. His advocacy for pedestrians and cyclists was devoted to the community and enriched everyone even after his eventual move to the Portland area in 2014. He enjoyed many years with local bike clubs, the Lincoln County Search & Rescue organization, and Newport Elks Lodge #2105.
To the significant chagrin of those who loved him, Kenneth/Kenny/Ken prematurely left behind his wife Lynn Dennis of 43 years, eldest daughter Pamela Rieland (Roger) in MN, son Andy Dennis in AZ, daughter Sarah Freudenthal (Joel) in OR, sisters Patty Svegal (Ed) and Jorine Dennis in MN, and 5 grandchildren (Kelsey, Jessica, Parker, Tierney and Mabel). The family is aware of many other amazing friends and extended family that will also miss him beyond all words in the English or any other language.
Ken Dennis was a husband, father, brother, grandfather and exceptional friend.
He would love nothing more than for all who knew and loved him to raise a glass in his honor, jump on a bike for a ride, laugh often, and remember all the good times because that's the type of man he was. A private military memorial service will be held in Portland later this fall.